Thermal imagers sensitive in MWIR and LWIR spectral bands are one of crucial surveillance technologies for defense/security sector. These imagers have also found mass applications outside defense sector. Testing thermal imagers is needed for both manufacturers, maintenance workshops and final users for a set of different and important reasons. Hi-tech test equipment can help significantly in manufacturing, maintenance, training, purchase optimization, and optimal use of these expensive imagers.

DT system offered in a series of versions is the most popular Inframet system for testing thermal imagers. It can be used for testing at laboratory/depot conditions virtially all surveillance thermal imagers offered on international markets, including long range thermal imagers for space application. All important parameters can be measured. Vertical configuration design method (blackbody and rotary wheel is on the collimator) enables design of compact test systems of high thermal uniformity of projected reference images.
a)
b)
c)
Fig.1. Photos of several DT systems: a)DT150, b)DT110, c)DT400
INFRAMET offers also additional systems for testing thermal imagers: TAIM, TYFEV, SIM, DTR, TCLIP, LAFT, WAP. SAFT.
a) TAIM is a special version of DT system optimized for testing thermal sights and thermal clip ons.
b) TFEV is modular professional system optimized for testing fever screeing
c) SIM is a simple, low cost system designed to enable focusing and resolution measurement of thermal imagers.
d) DTR is a system built using a refractive collimator optimized for testing small thermal imagers of very wide FOV.
e) TCLIP is a tester of thermal clip ons that enables fast checking of proper aligning of of thermal clip on.
f) LAFT is mobile test station designed to enable basic testing surveillance thermal imagers at field/depot conditions.
g) WAP is a portable wide angle projector optimized for testing imagers of medium/wide FOV.
h) SAFT is a small test system for testing measurement thermal imagers designed for short focus distance.
a)
b)

c)
d)
e)

f

)
g)
h)
Fig.2. Photos of several additional test systems: a)TAIM, b)TFEV, c)SIM, d)DTR, e)TCLIP, f)LAFT, g) WAP, h) SAFT system
NON UNIFORMITY CALIBRATION
There are many low cost blackbodies offered on international market that can be used potentially for two point NUC applications. However, due to significant and specular reflectivity, noticeable thermal uniformity and temporal sta­bility, and not ability to work in temperature chambers these blackbodies are not suitable for professional applications. Inframet offers BNUC series sets of blackbodies optimized for professional two point NUC applications.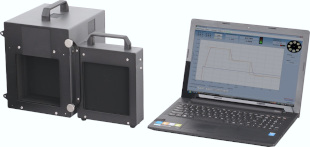 Fig,3. Photo of BNUC-TCB+BAP-6D blackbody set
Learn more: